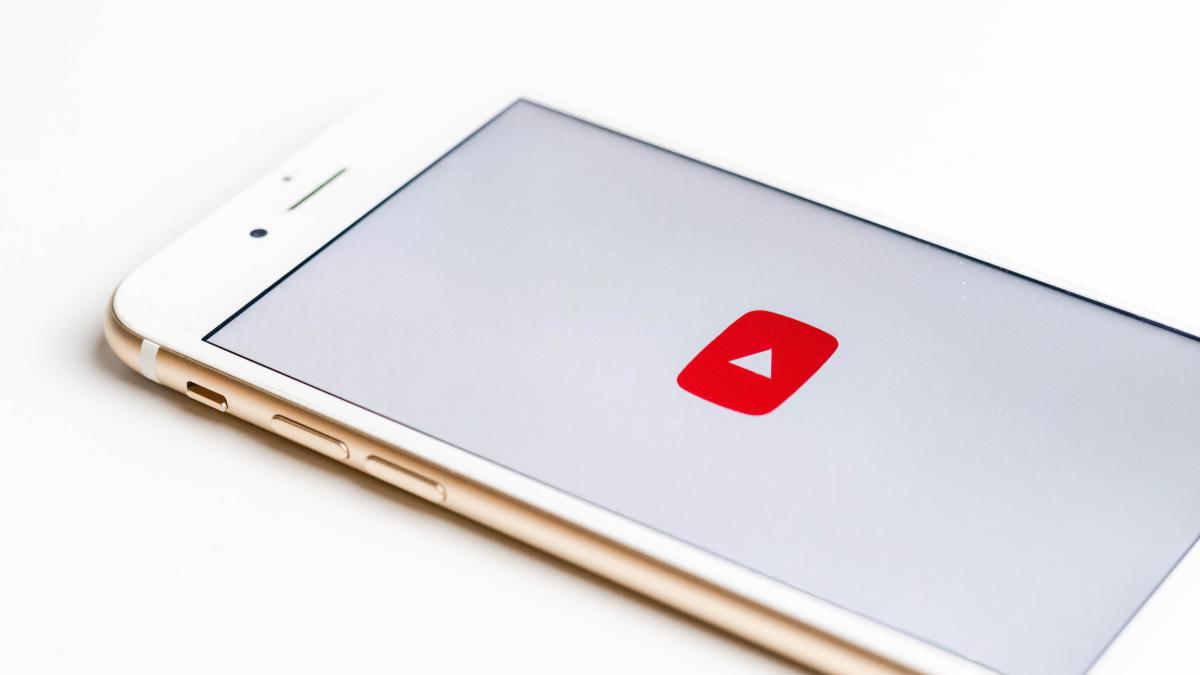 As the world's most popular online video platform, YouTube has more than two billion logged-in users monthly. A study by the Pew Research Center revealed that 94 percent of Americans aged 18 to 24 use YouTube. This figure is higher than any other online platform.
That means that about a third of the internet is currently using YouTube regularly. The platform has a huge potential audience to capitalize on. But keep in mind that starting from scratch is always challenging. That is very much the case with YouTube, and you have to play the game. 
YouTube has a specific algorithm to rank videos, an intricate set of data and rules that helps users find the most relevant content tailored to their preferences on the platform. The algorithm can affect how your videos are viewed and how much engagement you get from them. 
It can be very time-consuming and challenging to navigate YouTube's algorithm, but as a YouTube content creator or channel manager, you need to understand this algorithm to get the most of your work on the platform.
To understand how the YouTube algorithm works, understand what Youtube wants to achieve
The YouTube algorithm is simpler than it seems. In fact, they're very transparent about the various indicators they use to determine how successful a video is.
YouTube is working on increasing the number of ways to engage its channel viewers through personalized content by developing tabs for "Videos," "Shorts," and "Live" uploads, which will feature separate elements for each format on the channel page. 
The changes are also part of YouTube's efforts to make its content sorting more user-friendly. It allows users to filter content in the "Subscriptions" tab — for example — into regularly posted videos. It has also added community posts to allow for a more traditionalized posting function for creators. 
YouTube wants to provide more ways for its users to consume its content, especially with the increasing number of videos featured in the Shorts section, which enable users to scroll through a continuous stream of videos. This has proved hugely successful. 
The site is also working on adding more personalization elements for its channel visitors, such as displaying content based on their previous watch history or the language they speak. This feature could be very effective for channels with multiple languages, content formats and topics.
For instance, a "Recommended for you" section would be able to provide the most relevant content for the viewers based on their specific viewing preferences. If viewers started watching a video but didn't finish it, this section could help them continue watching. 
The recommendation system of YouTube has been instrumental in generating over 70 percent of the platform's viewing time.
YouTube also noted that this feature could help channel viewers expand their viewing habits. Personalized content could also boost the number of times they watch a video and increase their engagement.
Tips on utilizing YouTube's algorithm
Here's how you can use YouTube's algorithm to boost your organic reach and improve your channel's performance:
Add SEO-focused description
The video description is one of the most underutilized features on YouTube. It can be a goldmine for any channel as long as you pay attention to it. 
One of the most important factors you should consider when creating a video description is ensuring that it's SEO-focused. This will help Google understand what your video is about (remember, Google owns YouTube).
The first few lines of the description are the most important part of the video's description to help YouTube's algorithm identify the content of the video and what it's about.
The second section of the description should also contain additional information about your channel, such as links to your website or social networks, and it can help viewers learn more about your channel. 
Take Linus Tech Tips' "Why is EVERYONE buying this monitor???" video description below.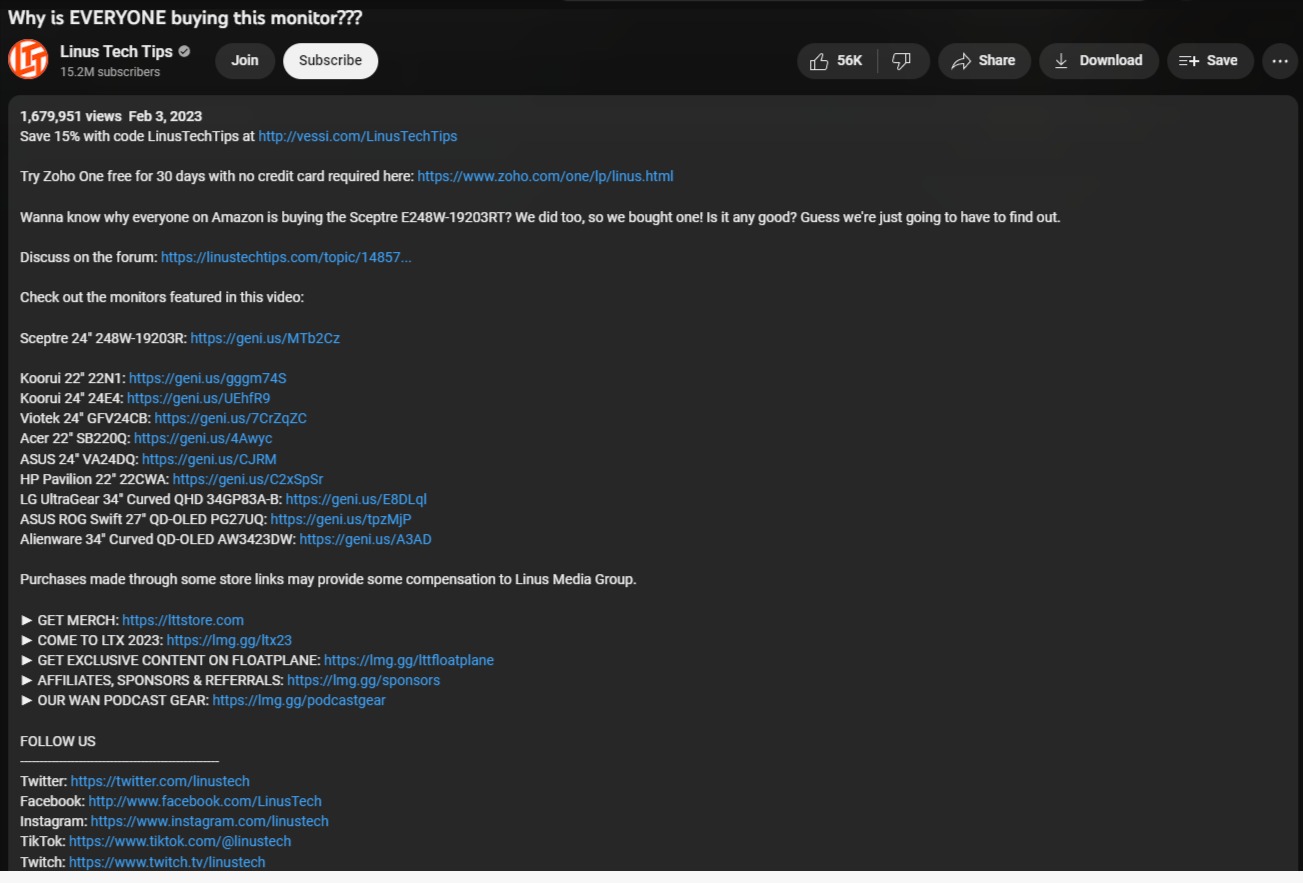 LTT puts the product name – Sceptre E248W-19203RT – in the first half of the description. In the other half, the channel puts its e-commerce website, where fans can buy merchandise, and social media.
Be consistent
Getting into the YouTube algorithm is very important for any channel, especially if you're focused on providing value to your viewers. Having consistent and high-quality content can help you grow your audience and reach your goals. 
Apart from having consistent uploads, you also need to show consistency in your brand's tone, colors and voice.
For example, large channels often record all of their videos at once. They also edit them on a different day, and they optimize them again on a specific day. They then design end screens, add cards and add thumbnails. 
This process is repeated in their video creation cycle to consistently produce videos.
Take MrBeast for example. The channel is consistent with its videos. Most of the time, if not all, it has Jimmy Donaldson, better known as Mr. Beast, as the host and in every video thumbnail. This builds a consistent appearance and tone for the viewers. 
This tells them, subliminally, "hey, remember this thing? This is what you're getting if you tap this image" - and then, they do.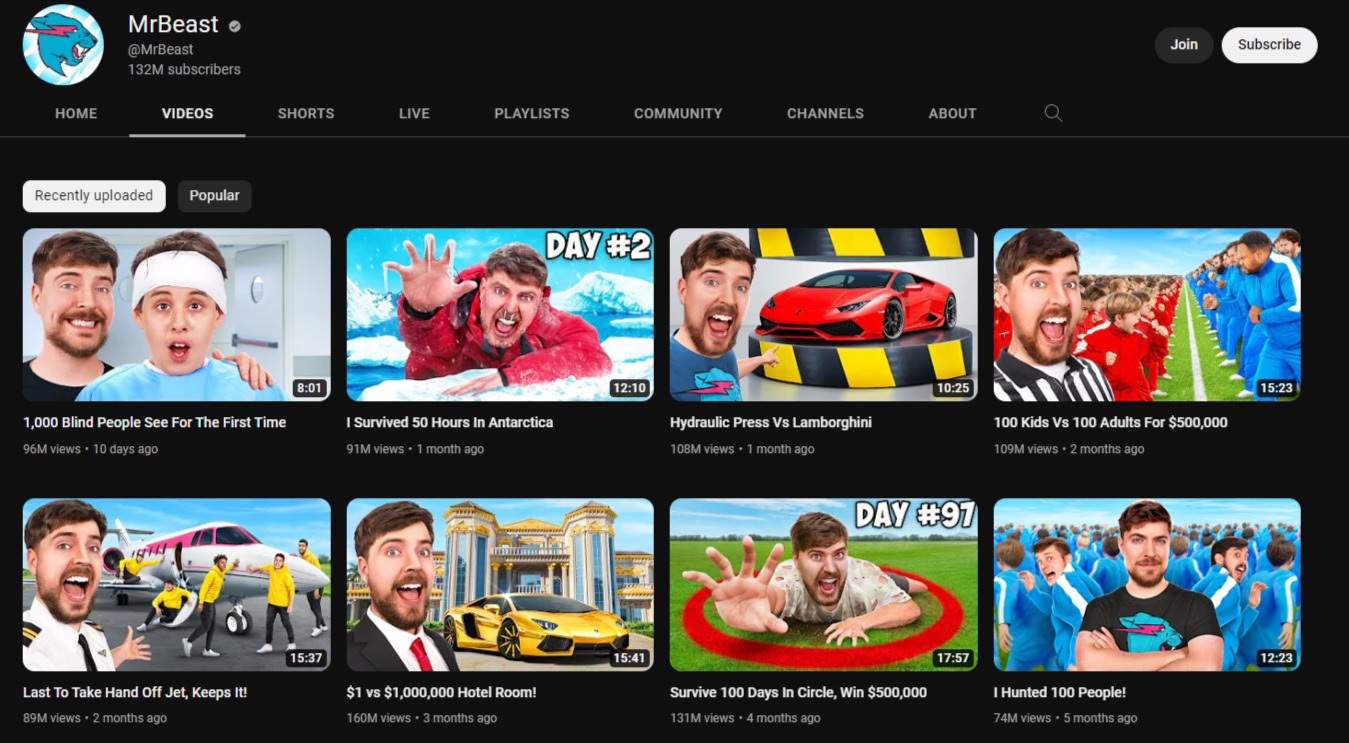 Optimize thumbnail and title
Your metadata, video engagement and other factors can help you appear in users' search results and recommend streams. 
Still, other creators will be waiting for that click. To beat them to it, make sure that your video title and social media images are attractive.
To boost your click-through rate, include the keyword in your titles or within your thumbnails. A critical note for optimizing is to do it regularly. Always test different titles and images to see what works and what doesn't. 
Take Marques Brownlee's (MKBHD) thumbnail and titles below to see how they should look: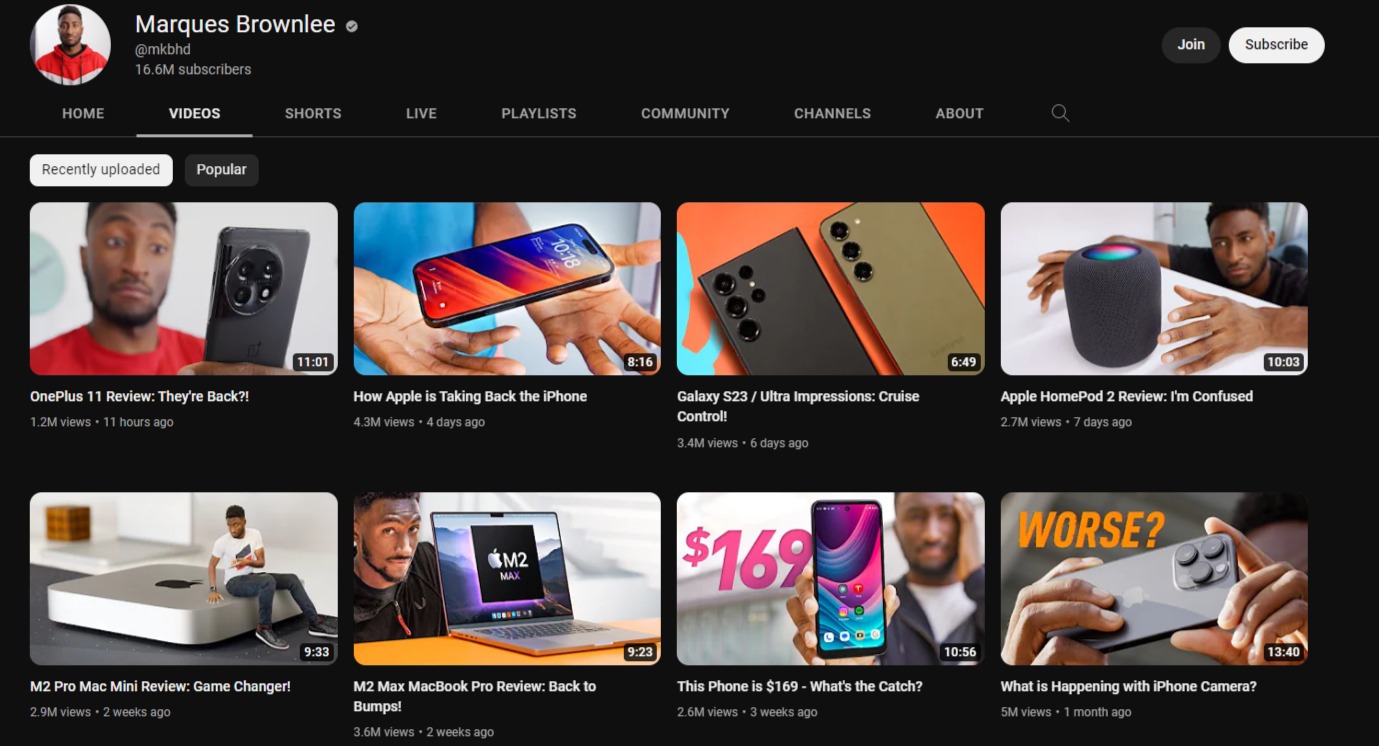 MKBHD tries to relate how the thumbnail looks to the video title. While it may not be overly complicated, the channel also puts some effort into editing the thumbnail for each video. 
Be relevant
Being relevant is a must for every social media platform, including YouTube, as it helps its users stay engaged and stay loyal to the site. Without good and relevant content, users will leave your platform.
Since the YouTube algorithm has changed over the years, you must create high-quality and relevant content to help users get the best possible experience.
Tech Spurt is a good example of being relevant. It provides the most relevant content for its audience, which mainly consist of tech-savvy individuals. The channel stays relevant by, for example, giving reviews/impressions on trending tech products such as portable speakers, laptops, smartphones and monitors.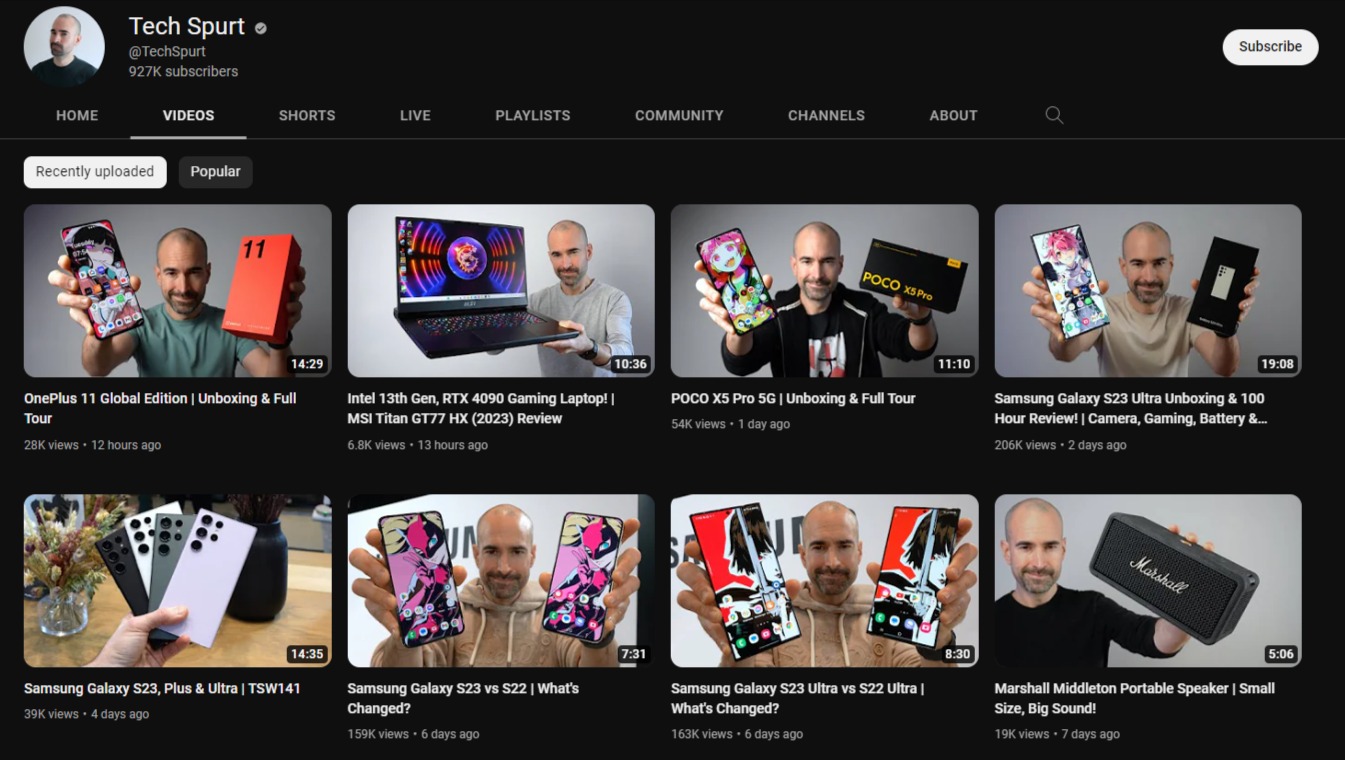 Adding SEO-friendly descriptions, consistently producing videos, optimizing your titles and thumbnails, as well as providing relevant content will help you beat the algorithm.
With all the help from YouTube's new user-centered algorithm, managing a YouTube channel will prove a hassle for some. Fortune favors the consistent. 

Origin Hope provides any content operation with newsroom efficiency, powered by its optimized processes, AI technology and excellent customer service. We work with marketing departments, independent creators, publishers and media groups around the world. Get in touch here.